News Cultivation
Grower Day: A must attend cannabis event
An opportunity to learn, reconnect, and network in-person
April 14, 2022 By Catarina Muia
There's nothing better than getting a group of people with similar interests, goals, and passions together in a room, to see how change can be driven. The cannabis industry has already seen its highs and lows in the almost three and a half years of recreational cannabis legalization. But as the industry eagerly awaits the review and results of the Cannabis Act, it is important to take the take the opportunity to reflect, generate discussion about the milestones achieved and lessons learned, and build strong relationships amongst industry peers.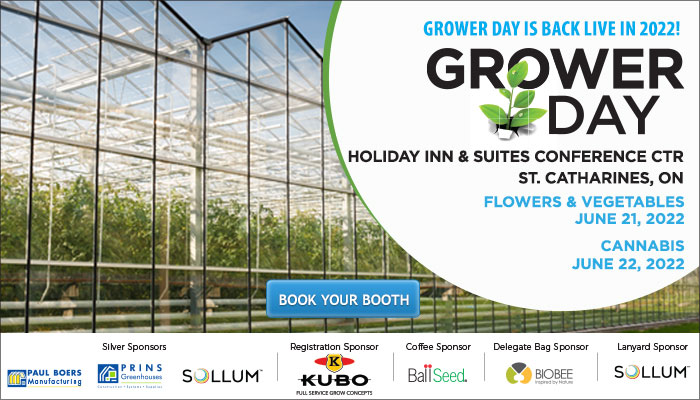 Taking place on June 21 and 22 this year, Grow Opportunity, in partnership with Greenhouse Canada, will host the annual Grower Day event at the Holiday Inn & Conference Centre in St. Catharines, Ont. The event will be split into two parts, with Greenhouse Canada hosting greenhouse floriculture and vegetable cultivation-focused sessions on June 21.
On June 22, cannabis growers can look forward to hearing from master growers and licensed producers, researchers, and other industry experts who will share their best practices on cultivation, production, and business management; network with industry colleagues and peers; and see the latest products, solutions, and technologies that have been designed to help grow commercial cultivation businesses.
For those looking to learn about the market, hear about the industry's latest techniques, best practices, and challenges, or perhaps share your own experiences and knowledge on cannabis cultivation, production, research, or business management, the event will host a conference focused on various areas of interest, including:
Sustainability: What does it take to create sustainable cannabis businesses, considering the various challenges and factors being experienced in today's world, which can then lead to the result of a sustainable cannabis industry?
Environmental, social and corporate governance: As the world continues to feel the drastic changes as a result of climate change, it's crucial to recognize the important social and environmental responsibilities cannabis businesses carry, and how diligence in this area reflects the industry, to the public.
Legislations, standards, and regulations: What changes still need to be made? What are the industry's short-term goals? What are the long-term goals? And what can the industry do to help drive the change that needs to happen?
Looking beyond CBD & THC (exploring genetics): There's so much about the cannabis plant that is still unknown to even the greatest researchers and scientists. Where's the industry's research headed? How can this research change the way people use, experience, and perceive cannabis?
Medical vs. recreational: Are there benefits to selling medical cannabis versus recreational cannabis? What does it take to become a medical cannabis seller, and what are the options and opportunities available once licensed?
Disease and pest management: New diseases and pests are introduced to cannabis cultivation and post-harvest year after year. What are some of the solutions being utilized in 2022 and beyond? What are some of the industry's greatest challenges today? What opportunities are there to eliminate disease-carrying genetics?
Diversity and inclusion: A 2020 report highlighted the lack of diversity amongst upper management roles within cannabis businesses. What is the root of the problem, and what is the industry doing to prioritize this imbalance? What can businesses do to ensure they're looking to give equal opportunities across all genders and races?
Marketing and advertising compliance: With the industry's current laws and regulations on cannabis marketing and advertising, it puts incredible limitations on what cannabis businesses can post, say, and promote on their digital and social platforms. What are some techniques and strategies being used to overcome these challenges? What changes does the industry foresee in this area?
Biosecurity and sanitation: One might say your cannabis plants are the top priority, when it comes to running a cannabis business. What measures are you taking in your facility to ensure you're keeping your plants safe from any contaminants? to
Resource management: On the business side, one might say resource management is the topic priority when it comes to running a cannabis business. What areas are the easiest to save costs? What new solutions, growing techniques, and best practices are you using to ensure you're effectively using your resources for both cost savings, and ESG?
It's your opportunity to help the Canadian cannabis industry grow and move forward. While everyone may be looking, and need to run their own separate businesses within the cannabis industry, it's the education and knowledge transfer, as well as the building of strong industry relationships and partnerships that will play important roles in creating a strong and sustainable industry.
Visit www.growerday.ca to register and find out how to get involved! 
---
Print this page