Media Partner
---
Grow Up Conference, Expo and Awards, Victoria BC
Grow Up Conference and Expo is bringing its conference, tradeshow and awards to Victoria BC. This west coast show featuring the Grow Up Extraction Zone, hosted by Extraction Magazine, will bring over one hundred high-level industry speakers, exhibitors and thousands of delegates together on Vancouver Island.
With over 120 world-class speakers, our informative panels will bring you up-to-speed with what is happened in the cannabis cultivation and extraction industry, nationally and abroad. Our sessions are dedicated to the hottest topics, latest trends and the future of cannabis
Network with LPs, head growers, extractors, purchasing agents, distributors, suppliers, manufacturers and more. The VIP Industry Conference includes access to all keynotes, panels and sessions, exhibition area, exhibition networking café, Meet the Exhibitors Networking Party and VIP Networking Party
---
Cannabis 2.0 has made extraction a field of great importance within the modern cannabis industry. Extracts of CBD and THC are driving the medicinal and recreational markets from oils to edibles. Join us for 3 days in Victoria, BC at Grow Up's Extraction Zone, presented by Extraction Magazine, as we look at the science, methods, equipment and services behind today's cannabis extraction. Learn from the top in the extraction industry and meet with extraction companies, services, suppliers and equipment manufacturers.
---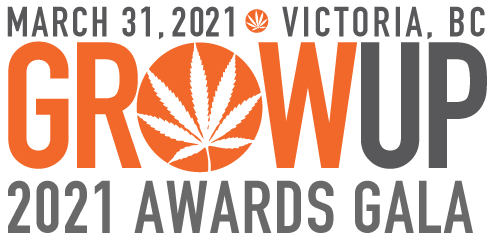 The premier Grow Up Awards Gala will be hosted in Victoria BC in the Summer of 2021. The Cannabis industry has made tremendous growth over the last year and we are determined to recognize the excellence and innovation with our 2nd annual awards show. Bringing the Grow Up Awards Gala to Victoria BC will make it easier for our west coast growers and suppliers to be a part of the celebration.
For more information, visit our website: growupconference.com/