Features
From the Editor: Time to grow together at Grower Day
April 19, 2022 By Catarina Muia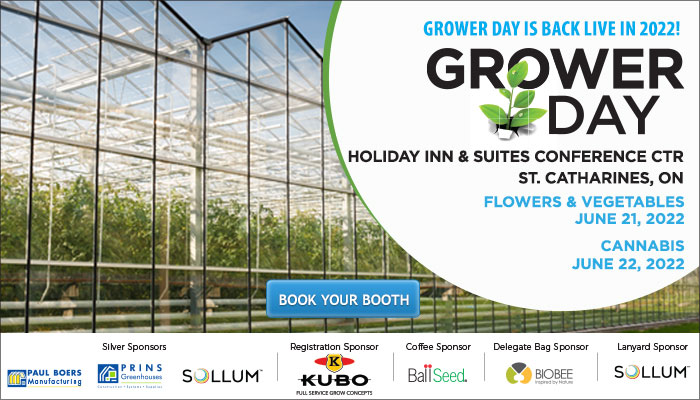 Change is bittersweet. It comes with adjustment, learning new ways of doing things, and getting to know new people. In June 2021, I had the pleasure of taking over the Grow Opportunity magazine as editor. 
In this position, I've had the opportunity to meet and converse with some of the industry's greatest growers and minds, and learn more about cannabis than I ever thought I would (who knew there was more to a cannabis plant than THC and CBD? Certainly not me). But today, I wish you all well as I move on from the Grow Opportunity brand, to a new, growing opportunity of my own.
Being editor has taught me to learn a lot about the people who are part of the industry. Upon first taking this position, and coming from an upbringing where cannabis wasn't really accepted, I would get a lot of odd looks when I told people I was the editor of a cannabis magazine. 
Over the course of my time with the brand I learned more, and found myself speaking to friends and family about the industry. I think a large part of it came from getting to know how passionate cannabis growers and business owners are, and hearing the research and studies being done to better understand how cannabis can and should be used.
This issue is no exception. In these pages, we look at bringing more voices to a young industry that is still finding its feet. Though it is only just three and a half years into legislation, the cannabis community has done more soul searching than what took many other industries much longer to talk about. 
Diversity and inclusion should be as easy as bringing more faces and ideas and experiences to the discussion. As an industry that champions against the stigma of the plant, we also have to be champions for our own people. Now, is the time, before old and harmful systems become set in stone. 
The industry has a long way to go, but I think that the industry has a group of extremely passionate people who want to share all the nuances of cannabis. It will be the responsibility of those within the industry to usher in that change that they wish to see in society. 
This is what the Grow Opportunity team hopes to do with Grower Day. Not only is it an opportunity for growers to network, share best practices, learn from experts and legacy leaders, but it is also about bringing the best advocates for the plant in the same room. 
Bringing growers outside of the cultivation facility and into the community, helps the industry tackle common goals that could not be achieved within the bubble of one company. 
Be sure to make your voice heard and drive industry change by participating in the annual Grower Day event. This year, it takes place on June 21 and 22 at the Holiday Inn & Conference Centre in St. Catharines, Ont. 
Visit GrowerDay.ca to stay up-to-date and learn more about the available opportunities! Our lineup of speakers and sessions schedule will also be available online.
It is in the roundtable discussions, the audience Q&A, or the small chit chat over that second cup of coffee from which new ideas spring!
I hope that one day, I'll have the opportunity to report and write about the cannabis industry again. I know that by then, there will be so much more we've discovered about this fascinating plant!
Until next time, happy reading and be well. 
---
Print this page