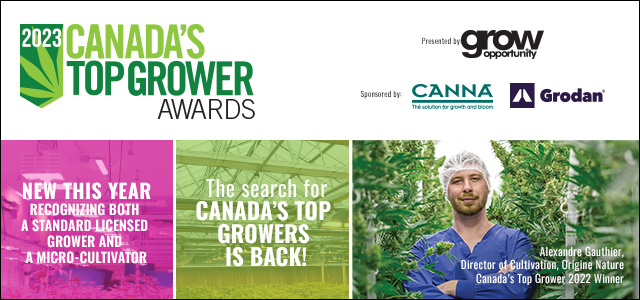 The search is on for Canada's Top Grower 2023!
Announcement:
This year we will be judging two categories, recognizing two winners — one standard and one micro LP grower.
All six finalists are required to provide a virtual tour along with two product samples to the judging panel.
Through the Top Grower Award, Grow Opportunity will shine a spotlight on Canada's most outstanding and innovative cannabis growers. The nomination form for the annual Canada's Top Grower Award is open now until August 31, 2023.
Do you know a cannabis grower who:
Shows deep understanding and knowledge of quality cannabis cultivation?
Is committed to the highest standards of cannabis growing practices?
Demonstrates strong work ethic and has a strong passion for sustainable and responsible production?
Demonstrates exceptional leadership and innovation?
If someone you know deserves to be recognized for their outstanding leadership in cannabis cultivation, nominate them for the 2023 Canada's Top Grower Award. The winner will be announced and profiled in the November/December issue of Grow Opportunity magazine.
The 2023 Canada's Top Grower will receive:
Front cover profile feature in the Nov/Dec issue of Grow Opportunity.
Guaranteed spot to participate as a featured panelist at Grower Day, including an official award presentation.
Eligibility:
All nominees must be currently employed or operating at a Health Canada-licensed cannabis cultivation facility.
Read about our past winners: