News
The Ontario Cannabis Store and the cost of neutral branding
*This story has been updated from it's original version*

$650,000 was the price tag attached to the LCBO's recently unveiled Ontario Cannabis Store, which will serve as the brand identity for all of the cannabis retail stores in Ontario when the drug is legalized this summer.

On their public information website, the LCBO said "the name is designed to convey a safe, simple, and approachable environment for consumers, and agency employees, in a clear and easily understod manner."

The design of the cannabis brand by Leo Burnett is minimalist and safe, but the email statement from the LCBO with the bill total didn't say how the quote was reached; it stated that the development of the brand followed "the government priorities of restricting access to youth, protecting public health and addressing the illegal market."

Tweets displayed in coverage by the CBC, Global, and CTV show mixed to poor reviews and confusion about the final product and its cost. Some aggregate news platforms like BlogTO have openly mocked it.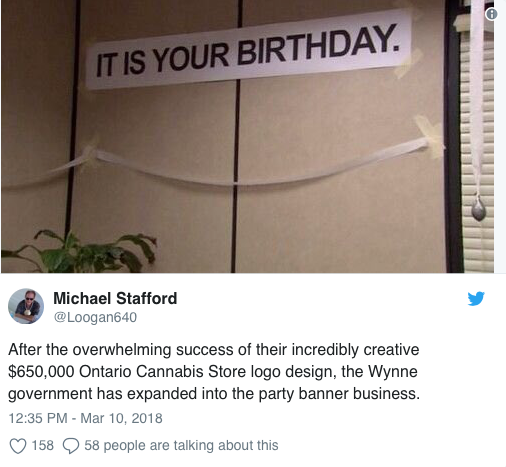 Matt Maurer, Chair of Canada Cannabis Legal at Minden Gross LLP said he isn't surprised at the simplicity of the new designs.

"It doesn't get any more basic than this," he said. "They have a monopoly so they don't need to entice people, and they don't want to."

Still, he thinks $650,000 is a steep price for a brand that simply describes exactly what the store is.

Maurer said that while he understands the LCBO's position on the OCS, he'd like it if they were more transparent with Ontarians about how and where the money was spent.

But if there's one thing that was certain, it's that designing a cannabis brand for the provincial government of Ontario was not going to be easy.

Bridget Hoffer, Partner and Head of Brand Strategy at Cannabis Communications and Marigold PR , defended the work.

She said she thinks that what the government paid is relevant to what a major corporation would spend on brand development.

"Fees and costs are allocated for a revision process as well," she said. "There's probably 2-4 creative concepts initially presented, and they'll lock down on a couple, develop those further then land on one and started refining it."

"Most large companies will designate anywhere between 10 and 25 per cent of their annual budget on marketing," she said.

This will be especially true for the fledgling cannabis industry, wherein the marketing must indirectly attract and show discretion at the same time.

The Ontario Cannabis Store is intended to convey a very simple, clear service that sits comfortably with the Ontario directives, and communicates that it is the official source.

And while simplicity has certainly been established, it still remains to be seen whether or not it will actually reduce let alone eliminate black and grey market cannabis sales.

At the time of writing, Leo Burnett Toronto could not provide any comment.


Health Canada sets clear packaging rules

On Friday, Health Canada announced that cannabis products must have "tamper-evident, child resistant and plain packaging provisions, as well as warning labels that clearly outline potential health risks associated with cannabis use."


The Canadian Medical Association made similar recommendations in a submission earlier this year.

In a statement, CMA President Laurent Marcoux said that while the government is making strides in the right direction, the CMA still has concerns over a dual system approach in respect to medical and medicinal cannabis regulations.

"The use of cannabis presents the same health risks regardless of how it may be acquired; this means that cannabis for medicinal purposes should face the same scrutiny and include the same health warning messages as non-medicinal cannabis," he said.

March 16, 2018 By Justin Bellmore
---
Print this page