Aug 12: Grower Day - Flowers & Vegetables
Virtual Event
Virtual Grower Day | Cannabis
August 19, 2020 at 1:00pm EST
The 2020 Grower Day for cannabis producers is going virtual! Grow Opportunity will bring together a line-up of industry experts delivering educational content designed for cannabis growers.
Focus on cannabis
The 2020 Virtual Grower Day will deliver expert insights, highlight best practices and opportunities to engage with cannabis leaders through an innovative online platform. Featuring live keynote presentations from some of the industry's leading personalities, engaging expert panel discussions, and recorded education sessions, this virtual event is one you won't want to miss.
High-quality content
Designed with the cannabis producer in mind, this Virtual Grower Day will cover an array of topics covering the cannabis industry value chain – from cultivation and production to business management and regulations. Whether you are a grower or a cannabis business leader, Grower Day provides an opportunity to learn from and engage with some of the best and the brightest minds in the cannabis industry.
Register Now
Schedule
1:00pm - 1:10pm
Welcoming Remarks
Speaker:
Mari-Len De Guzman, Editor, Grow Opportunity
1:10pm -1:50pm
Opening Keynote: The case for sustainability in cannabis production
LIVE SESSION
As the cannabis market continues to grow, the pressure is on for the industry to examine its impact on the environment and demonstrate an ability to pursue and practice sustainable production throughout the value chain.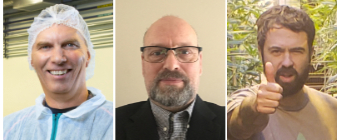 LIVE PANEL
Panelists:Gregg Wigeland
, master cultivator, Sundial Cannabis
David Kjolberg
, head of cultivation, Pure Life Cannabis Corp.
Max White
, co-owner and operations manager, Aroma Cannabis
3:20pm - 3:30pm
Break
3:30pm - 4:10pm
Q&A Session
LIVE SESSION
One-on-one discussion with an industry thought-leader on the future of Canada's cannabis industry. Attendees will have an opportunity to ask questions live.
LIVE SESSION
One-on-one discussion with a cannabis industry thought-leader on the future of Canada's cannabis industry. Attendees will have an opportunity to ask questions live.
ON-DEMAND SESSIONS
Speaker:
Stacey Hickman

Speaker:
Jayson Goodale, Sr. Lead Manager – Risk Advisory, CCI Deloitte

Speaker:
James Eaves
Speaker:
Max White
Frequently Asked Questions About Virtual Grower Day | Cannabis
When & Where?
Virtual Grower Day | Cannabis will take place virtually via GoToWebinar on August 19, 2020 at 1:00pm EST.

There will be a 15 minute break between live sessions.
Why Virtual?
The safety and wellbeing of our employees, customers, and community is our number one priority. By making this event an online experience, it eliminates the need for attendees and sponsors to travel in-person, while enabling them to still benefit from the event content.
What's Included?
Your registration provides you with access to watch the virtual keynote, all live sessions, and on-demand recorded content and product demonstrations.
How do I access?
We will email you an access link to the virtual event the morning of August 19, 2020.
If you don't see an access link in your email inbox, please check your junk folder. If you are still unable to locate the email, contact
Tara Jacobs
.